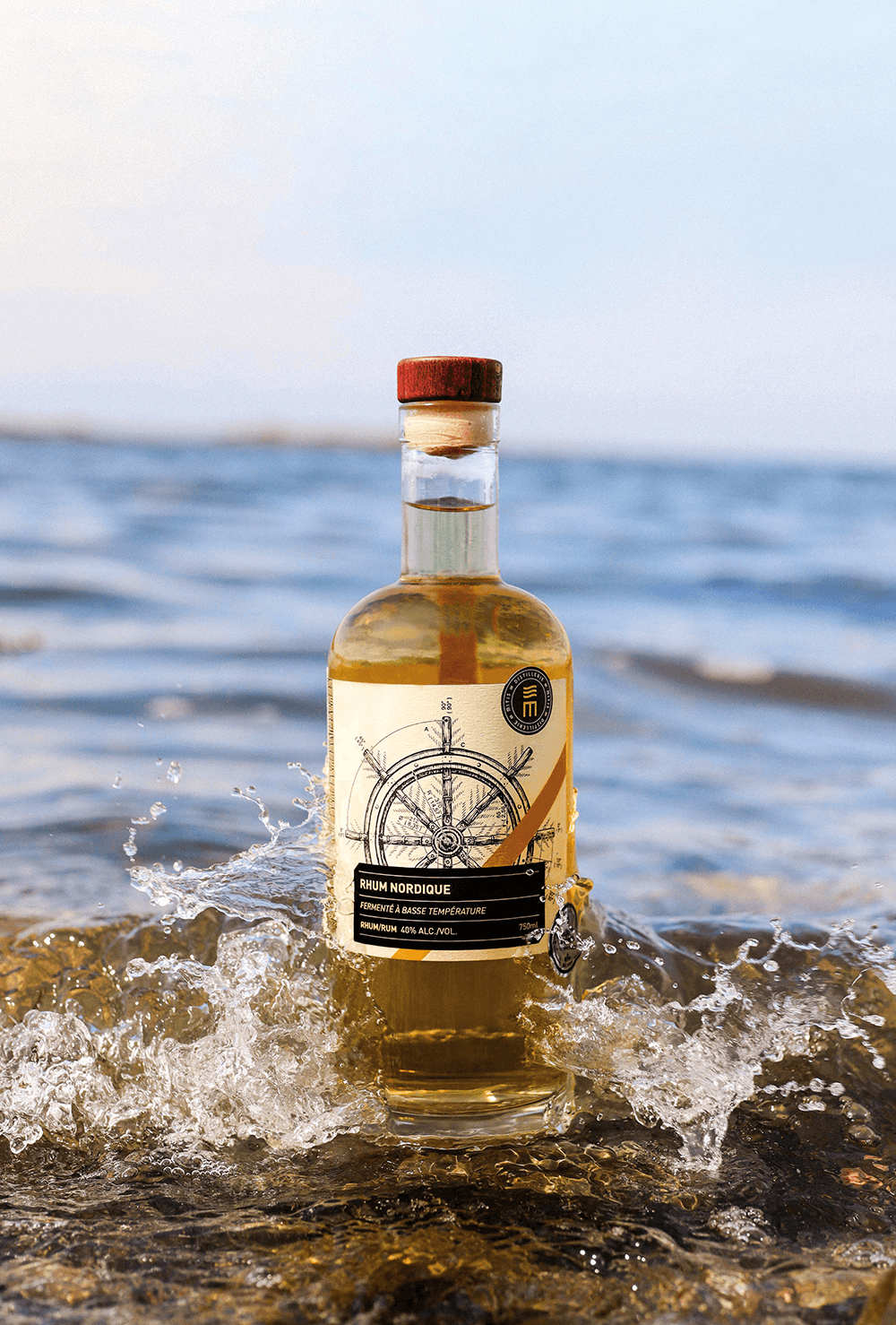 Rhum Nordique
Rum fermented, distilled and aged in barrels in Quebec
Coming from dreams and offshore winds, Rhum Nordique is concocted with meticulousness and passion.

This nordic rum is the result of the meeting between the tradition of the south and the Nordicity of Mitis. Slightly sweet, this rum is distinguished by its sweetness and bourbon flavors. Honeyed, it tastes very well on its own, allowing its flavors to open up under the warmth of a hand on the glass. Supple and refined, Rhum Nordique will be your ally in the preparation of your cocktails!
Alcohol content: 40%
Sugar level: less than 1g/liter
The history of Rhum Nordique
Fermented at low temperature, double distilled and aged in oak barrels used to produce first-use bourbon, our Nordic Rum is proudly produced without the addition of spices, sugar or coloring.
To produce our Nordic Rum, we ferment all the ingredients here. We start the process by using fancy grade molasses, like what we use at home to make traditional molasses pancakes. We insert this molasses as well as cane sugar into the fermenters with the water and the yeasts in order to start fermentation.
Once fermentation is complete, the molasses wine is distilled a first time to produce a stronger alcohol called low wine . Once the low wine is collected, it is distilled a second time to purify the alcohol. This step takes around 10 hours to obtain the most coveted part of this alcohol.
Once the sugar cane spirit is produced, demineralized water will be added and everything will be placed in oak barrels to begin aging. Over the years, we discover the flavors that develop and we blend the best barrels from batch to batch.
A Quebec rum recognized on the international scene
Rhum Nordique ranked Silver in 2021 at the New York World Wine and Spirits competition